Welcome to my world of design, where you'll find all of the above and lots more.







My latest book, Great Little Gifts to Knit, is hot off theTaunton Press. Jam-packed with more than 30 quick and colourful knits, tailor-made small projects to get you up to speed with new techniques, right on cue for your festive knitting.

View project gallery.

Win a pattern on my new Ravelry group, Jean Moss Handknits.

Available now from your local yarn store or Amazon UK and Amazon USA









There's a NEW free pAttern right on cue for the upcoming party season. Vamp is an easy-to-knit boa knitted in Rowan Kidsilk haze, featured in my last book, Sweet Shawlettes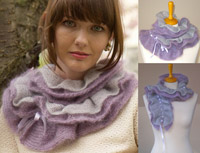 I have a new Etsy shop, why not drop by and browse the patterns. Readymade coming soon.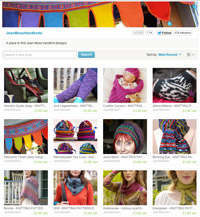 And at long last I've just got around to starting a Jean Moss handknits group on Ravelry. So… here you'll find patterns, books, updates, latest news, KALs, help and sharing. Why not drop by and say hello?

On our recent Knit Ireland trip, I was asked many times about my Blinking Eye shawl/scarf - I'm glad to tell you it's now in my Ravelry store

and on Etsy.
Visit Gifts & Treats - perfect projects for gifts or even better, for spoiling yourself. And while you're about it, why not try a little knit music while you knit?