Below are just some of the workshops I'm offering this year. Please get in touch if you'd like to arrange one for your guild or knitting group.

SWEET SHAWLETTES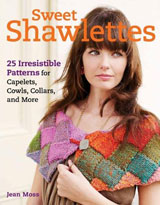 Looking at shape, stitch and pattern, we'll explore the different ways of constructing shawls -top down triangular, bottom up, circular, rectangular, freeform etc, and then you'll design your own unique shawlette, which you can go on to knit.
IN THE SWIRL

There are many uses for swirl patterns - square, pentagonal, hexagonal, octagonal - there's a fabulous range to fit many projects from hats and homewares to shawls and shrugs. We'll look at the different shapes and also different ways of making the swirl decorative.
FREEFORM KNITTING: an introduction

Hold on to your seats in this workshop the only limit is how far you'll let your imagination take you! Throw all inhibition out the window, make it up as you go, let go and kickstart your creativity; you'll be amazed by the results. How much or how little you do is not important - having fun and following your needles is!
BAGS OF FUN
workshop in conjunction with Freeform Knitting

Create an original bag or purse (can you ever have enough?) from your freeform fabric. After assessing the shape of your fabric, decide on a form for your bag, then we'll consider options for handles, straps, fasteners and additional embellishments to complete your own unique creation.
CREATING A HANDKNIT DESIGN
From source to swatch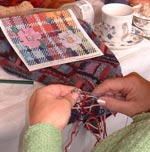 For knitters wishing to explore design, colour, texture and stitch. Using an original source from nature, art or simply an everyday object which you find inspiring, we will identify the design elements which make it work for you, then design and knit a swatch which can be made into homewares or a sweater.
COUTURE KNITS
Techniques from Couture Knits

Learn how to give your knitting the professional touch by integrating some simple designer tricks. Covering several cast-ons and cast-offs, buttonhole construction, creative bands,decorative increases and decreases as well as other tips to give your work the couture look.
SHORT-ROW CHIC
Japanese short rows

Discover the potential of short rows, both practically and creatively. Using the Japanese method, which produces a virtually invisible finish, we'll explore ways of introducing colour, shape and movement. From simple shapings to short-row intarsia, this technique will revolutionise your knitting!
SHADOW KNITTING
Add a touch of magic to your knitting
By alternating rows of light and shade in garter stitch, you will produce a subtle undulating pattern which appears and disappears depending on from which angle it's viewed. By the end of the class you should be well on the way to completing a pot-holder using the technique.
MORE COLOUR WILL DO THE TRICK
Making colour work in your knitting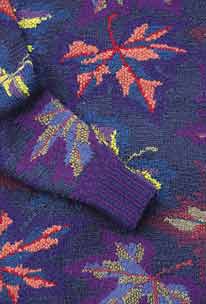 Whether stripes, fairisle, intarsia or simply co-ordinating a plain sweater, colour is crucial. Revitalise your knitting by understanding which colours work together and sharpen your colour awareness.Through a series of experimental knit exercises, we will look at the basic princi,ples of colour harmony, so you can apply them every time you pick up your needles.
HAT TRICKS
Fun ways with knitted hats

An introduction to knitting hats, looking at the different shapes and techniques, to enable you to make stylish and original hats.Expect to be surprised by your own creativity!
SOCK KNITTING
Welcome to the realms of the fanatical sock makers!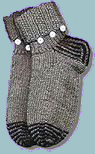 Delight your friends by creating your own unique gifts, or just enjoy the pure pleasure of snuggling up in a pair of home-made socks. Sock making is addictive so come and join the international club. Fairisle, stripey, cabled or sparkly, socks are easy-to-knit and portable, providing a perfect vehicle for your creative talents.
THE FINISHING TOUCH
Creative decorative techniques for knitters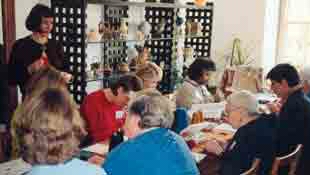 Ever wondered about those professional touches which give a garment its appeal? You can spice up your knitting with frilled edges, lacy fringes, cabled bands, floral embellishments and much more.
REVERSIBLE STITCHES
Beauty on both sides

Reversible stitches have many uses from throws, scarves, collars and cuffs to completely reversible sweaters like the Tassajara (left). I'll introduce you to some of my favourite patterns, we'll look at how to construct new ones and explore double knitting.
KNITTING WITH BEADS
How to add sparkle to your knits

Use beads to add pattern, colour and sparkle to your knitting. We'll look at the different beading methods and their application. Learn how to chart a beaded pattern, from which you can then go on to make a unique and fashionable wristlet.
PEPLUMS & PLEATS
Nips and tucks to add shape to your knitting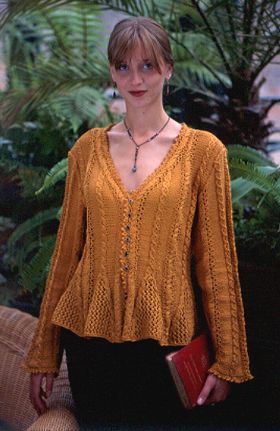 From the dressmaker's dart to the designer's godet, pleats and peplums are constantly used to add shape and style to fashionable garments. We'll explore the different techniques and stitches for shaping, through decorative increases and decreases, to knife pleats and edging patterns.
Slide show and talk of approximately one hour, with an informal question time afterwards, when knitters can look at some of my recent work and share their own projects and ideas (90 min. in total)
A PASSION FOR PULLOVERS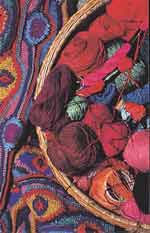 A light-hearted look at how I got into knitting, designing my own handknit and hand-loomed collections, working with other designers, commercial factory production, design consultancy and writing knit design books. Illustrated by slides of inspirational sources and sweaters from my archive. Personal anecdotes and insights on the fashion industry guaranteed!
SCULPTURED KNITS

An illustrated talk based on Sculptured Knits. Looking at pieces from the book, I'll highlight interesting techniques like short-row intarsia and reversible knitting.

NB A similar talk is available for any of my books.
BEST OF BOTH WORLDS:COLOUR & TEXTURE IN KNITS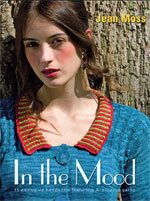 Colour and texture are the building blocks of good design. Taking a wide-ranging look at both traditional ethnic textiles and the modern decorative arts, we'll explore my sources of inspiration and examine ways I have developed colour and texture in my own knit designs.