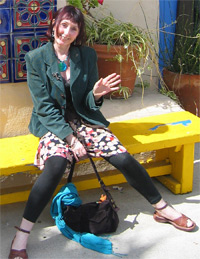 Follow me on

SWEET SHAWLETTESreviews
Thoughts in Progress Wednesday, February 15, 2012
Here I come to you once again with books from completely different genres. Isn't that the joy of readi

ng though? You

can be transported to so many places and learn much from the vast array of books available.

I know we all have certain genres we enjoy, but I have found interesting books when I've ventured into other unchartered genres. Plus, I've come across books I know family and friends will enjoy that I might not have known about otherwise. Even if you don't read other genres, it's fun to sneak a peek at what's offered from time to time.


The cod winter months seem to be the perfect time to brush up on your knitting and crocheting. It's a time for making great gifts for family and friends, as well as a few accessories for yourself.

Renowned knitwear designer Jean Moss has put together 25 shawlette patterns to show how to knit these delightful little frocks in her book, SWEET SHAWLETTES: 25 IRRESISTIBLE PATTERNS FOR KNITTING COWLS, CAPELETS, AND MORE.

The patterns range from necklaces to collars, cowls and capelets. The pieces are budget friendly and easy to carry with you for portable projects. There are project for all levels of knitters from beginners to experts.

Moss has compiled the patterns into four chapters each reflecting a different mood. They include: Country - nature inspired using lace, appliqué and such; Couture - style with bold color, vivid enrelac; Folk - explores knitting traditions with plaid and patchwork; and Vintage - highlights fashion through the ages from Elizabethan neck ruffs to Wuthering Heights shawls to the glam of the 50's screen goddesses.

Each pattern features detailed illustrations, charts and schematics. There are 45 beautiful color photos showing the finished projects. In addition, instructions are included for the special stitches. A number of the patterns also show ways to re-image the project.
This delightful knitting book will a great addition to your library or a wonderful gift for a friend.

Sweet Shawlettes: 25 Irresistible Patterns for Knitting Cowls, Capelets, and More by Jean Moss, The Taunton Press, @2012, ISBN: 978-1600854002, Paperback, 144 Pages
A treasure trove of intelligent neckwear designs January 28, 2012 by onlineshopper at Amazon.com

I had to laugh at Phyllis Staff's comment about being a neckless wonder. She and I must be related! And like her, I, too, am compelled to pull out my needles and stock up on some yarn. And I do mean "stock up." Out of the 25 neckwear patterns in Sweet Shawlettes, I fully intend to wear 24 of them myself. I'll also be knitting several more as gifts. So how is it that one book managed to strike such a cord with me? I think the answer lies in the amazing variety of elements that are packed into Sweet Shawlettes, including:
(1) Style. The pieces, themselves, span the gamut of neck and shoulder wear. There are full-sized shawls, capelets, ruffs, necklaces, cowls, and more in rectangular, triangular, and cylindrical shapes.
(2) Aesthetics. Four distinct artistic genres are articulated. Feeling a connection with nature? Then look no further than the Country collection; these pieces derive their inspiration from the shapes and colors and textures of the natural world. Perhaps you want a more cutting-edge look. Got that covered, too. The Couture collection affords, sharp, sophisticated, avant-garde options for your knitting pleasure. Longing to rekindle your relationship with your knitterly heritage? Then the Folk collection is waiting for you. Here, you'll find designs that combine the history, tradition, and cultural roots of knitting with a fresh, appealing perspective. Or are you craving the classic and glamorous looks of bygone ears? In that case, you'll find that the Vintage collection delivers fashion statements that are timeless, elegant, and memorable. With this range of evocative, poetic, cultured, polished, sensual, pleasing, and imaginative choices, I can find something that allows me to express my every mood.
(3) Techniques. For me, the experience of knitting a project is as important as wearing or gifting the finished piece. Here, Sweet Shawlettes rewards the process side of my nature. The designs incorporate an abundance of knitting techniques, including lace, cables, Fair Isle, entrelac, intarsia, Guernsey, appliqué, shadow knitting, color-blocking, patchwork, ruching, tartan, bobbles, and beading - in isolation and in combination! Regardless of my knitting urge, I can find something here to satisfy and gratify.
(4) Skill Level. Sometimes I want to be challenged. Sometimes I don't. Again, Sweet Shawlettes delivers the goods. With 25 patterns from which to choose, I can select a design this is quick and easy to knit, or I can opt for a design that is intricate and draws on my advanced abilities. If I'm feeling a bit more middle-of-the-road, I can settled down with a design of medium complexity. Whatever level of aptitude I wish to exercise, there are choices that enable me to flex my knitting muscles.
(5) Finishings. This is an area where Sweet Shawlettes really floats my boat. In my opinion, seemingly small finishing touches have the power to elevate a good piece to a great piece. As a talented and generous designer, Jean Moss understands this and encourages us to think about our options for such finishes as buckles, buttons, bows, beads, and fasteners in addition to our cast-on, bind-off, and edging decisions. After reading this book, I'll never again pass a yard sale, flea market, thrift store, or estate sale without stopping to look for notions that I might cull from heirloom jewelry and period furnishings or from recycling lovingly worn articles of clothing. I am eager to bring a whole new level of artistry to my knitwear through my new-found fascination with notions-hunting.
So, what don't I like about this book? Phyllis nailed it - the binding. I also want a pattern book that will stay open as I knit. My solution for this is to visit my local office supply store. For a dollar or two, they will trim the binding and convert my book a spiral-bound volume. Sweet Shawlettes is printed on substantial, high-quality paper that lends itself to this conversion, allowing me to obtain a book with pages that lay flat and turn easily. That leaves me with just one dilemma: which project to begin first! Oh, wait. My niece just solved that problem for me. She wants me to knit her that 25th pattern that I didn't choose for myself.
I hope you enjoy Sweet Shawlettes. If you are even half as enthusiastic about these designs as am I, then you'll be thrilled with your purchase.
5 out of 5 stars Intriguing Designs for Knitters of Every Skill Level January 17, 2012 by Phyllis Staff (Dallas, Texas USA), published on Amazon.com

I'd love to have been a swan-necked beauty, but being a neckless wonder, I've never been especially intrigued by cowls or capelettes - until now. Sweet Shawlettes has incorporated designs that demand I get out my needles and put to use that alpaca/silk blend yarn I simply could not resist (see there, I just knew there'd be a perfect pattern for it).
Here's my take on Sweet Shawlettes:
PROS:
1. Included in this volume are a wide array of designs, from simple and straight-forward to sophisticated and complex. To wit, there's something here almost anyone would enjoy including in their wardrobe. I particularly covet the Mantilla shawlette (or is it a cowl or a scarf?) seen on the back cover, but I also admire the tartan shawl and the Twine cowl. Any one of them could be used to advantage to brighten up my wardrobe.
2. I'm always looking for new techniques to improve my knitting skills. In this book, I found a new cast-off, the cable cast-off, so, although I have yet to try it, I'm pleased with the addition to my cast-off techniques.
3. The project index, at the back of the book, uses photos so you can quickly find the pattern you want. This is a nice way to present an index, and one that I haven't seen used before.
4. Many of the projects are small enough to take advantage of some of the left-over yarns in my stash. And, as any serious knitter knows, stashes grow like left-over coat hangers. Putting the odd ball or two to good use is a big plus.
CONS:
I'm not fond of paperback construction for knitting books because it's often difficult to keep the book open at the page you are reading. Unfortunately, this particular book suffers from that annoyance. I have found that I can copy the pattern and use the single pages from my printer to overcome the difficulty, but I do wish publishers would use hard bound or spiral-bound books for knitters. And, yes, I do have a cookbook holder made from clear plastic, but it really is not convenient to use while I'm knitting in an arm chair.
OVERALL:
Sweet Shawlettes is a pleasure - a variety of designs, gorgeous color photographs.
Four and a half stars! (Rounded up this time)
UPDATE: January 19, 2012
I shared this book with my neighbor, an avid crocheter. She liked the designs so much that she has decided to learn to knit just so she can make a few of them!
The Knitter loves
CLASSY COLLARS,
CAPES & COWLS!
Shawlettes are popular knitting projects, thanks to their portability and the chance they offer to playwith new techniques. They're lovelyto wear, too, and we've been charmed by the designs in Jean Moss's new book, Sweet Shawlettes.

The 25 patterns are grouped by style:
'Folk' includes lovely Fair Isle and tartan patterns, while 'Vintage' uses ruffles and lace to great effect. 'Couture' has six very modern designs, while the patterns in 'Country' have a relaxed feel. There's lots for all abilities and tastes here.


Publisher's Weekly
Sweet Shawlettes: 25 Irresistible Patterns for Capelets, Cowls, Collars, and More

From shawls and fichus to collars and cowls, this fun collection of 25 bite-sized knits has a project for every style and skill level. Veteran knitwear designer Moss (In the Mood), a regular contributor to Vogue Knitting and Knitting magazines, has created a fashionable collection of accent knits. Each of the book's four stylish sections--Country, Couture, Folk, and Vintage--contains knittable, wearable, and gift-able projects.

Pieces like the festive Kardamili Shawlette or the leopard-print Kitty Capelet offer contemporary feel to classic pieces, while more unusual items like the delicate Vamp Boa, the sweet Garland Necklet, and the sassy Treasure Jabot offer lovely alternatives to traditional accessories.

Several patterns feature colorwork, with additional forays into cabling, lace, and entrelac. Moss has provided plenty of useful diagrams and charts, and encourages knitters to alter or embellish each piece as they wish.

The handy project index lays out thumbnails of every pattern in the book. This whimsical collection is perfect for the beginning or intermediate knitter looking to try out new techniques or use up her yarn stash.
45 full-color photos. (Jan)
Reviewed on: 12/02/2011
Spinning Alpaca Yarns
SPINNING ALPACA YARNS
Sweet Shawlettes, 25 Irresistible Patterns for Knitting Cowls, Capelets, and More, is a recently published book of beautiful and fashionable knitting patterns by designer Jean Moss. If you want something special beyond the usual shawls and cowls, this book is for you. Author Jean Moss is a designer, knitting teacher and writer who lives in York, England, where she has created her own collections of hand knits for the past 25 years, in both Europe and North America.
The book is divided into four sections, Country, Couture, Folk and Vintage with half a dozen beautifully photographed patterns in each part. The patterns themselves are an assortment of yarn neck pieces, capelets, cowls and collars, all using fairly small amounts of yarn. As Moss says in her introduction, if you're a fiber lover who can't resist buying a skein or two of luxury yarns, but then you wonders what you can make with this small amount, you'll love these patterns, which are the perfect way to show off that specialty yarn. They are also good for using up your stash as well, and since many of the patterns are quick to knit up, they would make much appreciated gifts.
A great many stitches are explored in Sweet Shawlettes, including Fair Isles, cables, lace, applique and more. As for the yarns used, the author states she tried those which were were easily accessible to any knitter, both online and in stores. Some patterns work better with cottons and linens and some with more luxurious yarns and Moss gives her recommendations for each pattern.
These fashion statement knitting patterns lend themselves to embellishment with buttons or antique jewelry so you can use your creativity with the closures and decorations.
There is a nice mixture of easy patterns, if you're fairly new to knitting, but many are for the intermediate or experienced knitter. In fact, the index lists only four easy patterns of the 25. The Enigma Shawl in the Couture section is marked easy and is a frothy beauty made with stockinette stitch. The Harlequin Cape, which is pictured on the cover, is intermediate. The patterns in the Folk section, such as the lovely Arabesque Shawl could easily become an heirloom in your own family.
My favorite section was the Vintage patterns, where the author features pieces from the Tudors up through Hollywood style fashion icons of the 1950′s. Want to feel like Grace Kelly? The delicate Grace Cowl is, of course, named after the classically beautiful actress and you could easily imagine her wearing it. The Bronte Fichu was inspired by the Emily Bronte novel, Wuthering Heights, and received several mentions in the book. This shawl for the experienced knitter features an exquisitely lacy look.
The easy pattern in the Vintage section was the Vamp boa, made with the stockinette stitch and mohair yarn.
The appendix to Sweet Shawlettes features techniques, such as how to add beads and how to read a chart, and knitting stitches. There is also information on all the yarns used in the book.
Sweet Shawlettes by Jean Moss just recently was published this January, 2012 and would make a unique addition to your knitting library. I would recommend it for either intermediate or advanced knitters. Beginners will drool over and be inspired by the lovely patterns but might get frustrated at not being able to actually make them. Sweet Shawlettes is available on Amazon.com and other book outlets.
Reviewed on 18 January 2012