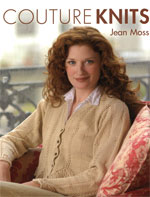 It's a fabulous time to be a knitter right now. The global knitting scene is vibrant and inspiring, both socially and creatively. There are exciting new shops and publications, drop-ins, knit-ins, knit-and-natter sessions, exhibitions and even knit theatre, as well as many inspiring new designers and makers. People are becoming tired of our wham –bam-quick-fix society and there's definitely a move towards the appreciation of all things handmade. In today's hectic world, where personal time is scarce, knitting stands alongside yoga and other stress-relievers as a mantra for unwinding. Small portable projects make it easy to knit on the way to work, transporting commuters into a calmer space.
So… if you're dallying with the idea of learning or going back to knitting, procrastinate no longer! Pick up your needles right now. It doesn't matter what you knit with – if you can't find yarn, string will do, if you can't find needles, sharpen the ends of chopsticks, pencils or paint brushes and get started. Just learn the knit stitch – in, around, over and off - and join the ever-growing community of knit, textile and fibre fanatics. Not only will you make lots of new friends, but soon you'll have made more gorgeous pieces than you'll know what to do with.
Why should chic and stylish knits be the exclusive domain of the rich and famous ? In Couture Knits you'll find all the tried-and-tested designer tricks-of-the-trade to transcend the homespun look and get the wow factor usually exclusive to luxury couture garments.
Since I find it frustrating when I'm following a pattern to have to look up a technique in another book, I've made sure that you'll find everything you need to complete each project within Couture Knits. The techniques are explained and clearly illustrated at the end of the book.
There's something for all skill levels. For beginners, once you've mastered the basic knit stitch, try Whizz. This is the simplest gilet which uses only garter stitch, has zero shaping, and can be worn inside out, upside down or any which way you want it. There are half a dozen other easy projects, such as Slinky and Cool Cloche , each chosen to gradually expand your repertoire of knit skills and at the same time boost confidence. For the intermediate, keen to explore stitch patterns or cables, designs such as Sundowner and In The Pink should fit the bill. And for those knitters who relish the challenge of colour work there's fairisle and a gentle introduction to intarsia in designs like Acoustic and Windsor.
I'm a self-confessed yarnaholic and always profess good intentions of using every ball of yarn in my stash. Unfortunately, at the latest count, I would now need about five lives in order to achieve this! I'm hopelessly seduced by the fabulous new yarns which have yarn shops throbbing with colour and texture. I'm a hedonistic knitter and beautiful needles, fun stitch markers and gorgeous tactile yarns are star players in my enjoyment.
We are spoilt for choice in the yarn shops now. My favourites have always been Rowan and Jaeger, but recently I've been designing for a new company, Artesano, and I've included many designs in their lustrous alpaca. I refuse to knit in yarns which won't do justice to the time and skill invested in my knitting. I'd much rather knit a small, exquisite item in a fabulous yarn which will be cherished forever than something which disappoints through yarn economy. My favourites are wool, cotton, cashmere, silk, alpaca and natural blends. Today's busy knitters demand a quality knit experience – from yarn manufacturers who are consumer-aware, through informed and helpful yarn shops and innovative and accessible designs, to finished pieces which can be worn with confidence and pride.
People knit for many different reasons and although a knitted item was once considered to be the economy model, we all know now that to create stunning pieces, an investment of both time and money is needed. For some knitters it's not about finishing projects, they are more interested in the process. I totally applaud this. However, many are completely wracked with guilt about unfinished projects. I've never understood this. It's totally Zen to value the journey more than the arrival and the important thing is what we learn on the way. On the other hand, some knitters are serial producers of stitch-perfect heritage pieces, which will inform and educate other generations of knitters.
There is so much to learn in knitting, yet you need to know so little to be able to knit. I see my design work as continuing education, both for myself and for those who knit my sweaters. Once you've knitted a design and loved it, I hope it will empower you to experiment and play. Don't get anxious about mistakes, often no-one else will notice – within reason of course! Remember what knit guru, Elizabeth Zimmerman, said about errors - 'one time it's annoying, twice it's a mistake and three times it's a new design'. Take time to learn from your mistakes and see beyond them the possibilities of brilliant new designs.
For me, one of the satisfying things about teaching workshops is the exchange of ideas and the contact with other knitters. I always get a thrill when I see someone wearing one of my designs. Occasionally a knitter will add something which is just perfect. For instance, recently someone substituted beads for the colourwork in one of my sweaters and not only did it look a knock-out, but it was unique! Since I don't always have the time to develop a particular design in different ways, it's hugely satisfying to see other people's versions.
Knitting is evolving all the time and there's never been a more exciting time to start. So pick up your pins, celebrate your creativity, use your inspiration and let's knit together a better world!
Knit on,
Jean