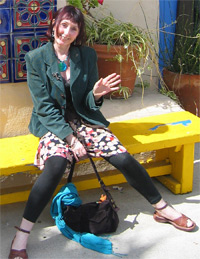 Follow me on

Great Little Gifts to Knit
Most Helpful Customer Reviews (Amazon)
First Impressions: Do you have friends, family members, co-workers, acquaintances, or random strangers that you need to knit presents for? Well this book is perfect for you. This book has 30 projects for babies/little ones, women, men, and the home. An extra bonus is that the presents are unique (e.g., beaded wristlets and a dog jacket) but simple (most of these projects are easy enough for an advanced beginner). Another extra bonus is that most of these projects are ones that I would actually knit for people (e.g., mittens, hats, and baby booties). I really hate it when gift books are predominately filled with items that are interesting when opened but quickly forgotten.

The Details: As stated earlier, this book has 30 projects for babies/little ones, women, men, and the home. Rowan yarns are used for the projects, but the author encourages knitters to use whatever yarns that are handy and/or affordable. There is a section in the back of the book that reviews special techniques that are used in the book. I find this helpful for when I don't want to dig out one of my knitting technique books. Of note, although the babies/little ones, men, and home sections all have about the same number of patterns, the women's section is double the number of patterns. Although this is not surprising, it is a bit frustrating, because I don't typically have a problem with finding women's patterns.

Final Impressions: This is a great book of knitting patterns for advanced beginners. There is a good amount of variety in the patterns for all the different people in your life that needed knitted presents
This book had 30 wonderful, quick patterns for gifts. From socks and baby hats to fingerless, feminine gloves and bean bags, there were a lot of different ideas! I loved that none of them would take a lot of yarn and should be quick knits. If I knit my way through this book, I could have my Christmas list done, I'm sure!

There's a section in the back detailing yarns used, great charts with keys, and some basic techniques explained such as cast on and selvage edges.

Take it from a knitter: any knitter would like to have this book. While we may already have a pattern for a seat cushion or a pillow cover, we always appreciate colorful photography, different patterns, and projects to start!
kathy
on September 4, 2013
I think the patterns in
Great Little Gifts to Knit: 30 Quick and Colorful Patterns
are great because they aren't big and clunky things that say we know you knitted that. If you give someone something from this book they'll say you made that? really? I thought you bought that at a boutique.
There are so many things in this book I would like to make for myself before I even start with gifts. My favorites are the fiesta shrug with matching fingerless gloves and the socks on the cover. There is also a McDougal dog jacket I wish I could knit for both of my cats. The photos in the book are simply beautiful. There is also a tip and technique section that is very useful-- for example explains how to sew on beads, covers chart reading, color slip stitch knitting and much more.
As someone who has been knitting since my mother taught me when I was 8 I highly recommend this book. If you think you are only a beginning knitter don't be intimidated by trying something on the next level because it is really not that hard you'll be surprised at how easy it is. The book uses Rowan yarns but there is also a guide at the back of book on how to substitute and change yarns. Just remember alway check your gauge- also easy to do.I read this as a netgalley edition.
jbarr
on September 3, 2013
Little Gifts to Knit 30 Quick and Colorful Patterns by Jean Moss
This colorful illustrated book about quick gifts you can make has so many adorable ideas.

The first section is baby and not only does it have the tiny caps but also an illusion afghan. The directions are charted and row by row instructions.
Next section is Hers and the pieces are so elegant, lacy, and romantic. The berets would be my favorite

Next section is for Him and my favorite there would be the beannie cap-love doing cable work.

Home section favorite for me would be Welcome door hanging- so different!

Book includes special stitches used, the technique of using them; Yarn Information-where to obtain the yarn used in the samples; and a section on selecting the right buttons and trimmings.Knitting abbreviations is next, needle and hook sizing, and a project index with pictures and page numbers for quick reference. Index and bio about the author are also included.

What I liked about this book is a lot of the quick projects can also be used in the charity work I do locally and some look challenging while others with the pattern look very easy.
The very high quality photographs will speak volumes to you!
I received this book from Net Galley via The Taunton Press, Inc. in exchange for my honest review.
Format: Paperback
Great Little Gifts to Knit provided exactly what the title implies: 30 relatively quick projects for gift giving. While there may be nothing original about the concept, this book does a nice job presenting and organizing the projects.

The layout of the book is well thought out. In the beginning of each chapter, Jean Moss lists the "showcased techniques" that will be used in the projects within that chapter. She suggests that these projects can be used as mini workshops for learning new techniques which is a great idea for newer knitters. Each project has a least one color photo (many have more than one photo), clear instructions, schematics, charts where appropriate, lists the skill level involved, and lists the approximate time needed to complete the project. All very helpful. This book does not give basic knitting instructions, but in Appendix 1, it does describe and sometimes diagram some of the intermediate techniques and stitches used in the projects.

What I liked most about this book: the projects are often shown with more than one color photo, and with different colors of yarn so you can really get a feel for the project. I also loved the project index in the back of the book, with a picture of each project and page number. I would recommend this book for beginners-intermediate knitters, although knitters of all levels will find some great gifts to knit!

*ARC courtesy of The Taunton Press, provided by Netgalley in exchange for an honest review. Thank you!*