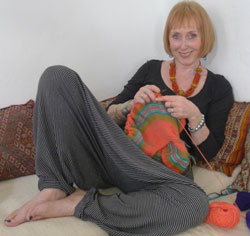 One of Britain's leading knitwear designers, Jean combines her twin passions of knitting and gardening in her tours. A self-taught knitter, her innovative use of textures, colours and elegant styling have been widely influential. For more than twenty years she has designed her own collections as well as various commissions for Rowan Yarns, Ralph Lauren, Laura Ashley, Benetton and other major fashion houses. Magazines such as Vogue Knitting and The Knitter feature her designs regularly and she is the author of many books.
Believing that good design should be available to all, not just those who can afford to buy couture, she teaches knit design and technique workshops in North America and Europe. Her latest book Great Little Gifts to Knit was published by The Taunton Press in September 2013, receiving excellent reviews on the subsequent blog tour. Travel is a passion and Jean loves to connect with kindred spirits and share skills. She firmly believes in vegetarianism, sustainablity and the power of love and laughter.
BLOG

KNIT GREECE
LECTURE
Our love affair with Mani
WORKSHOPS
1 Twists & Turns
traditional Greek key patterns
We'll look at the origins and structure of these ancient geometric designs. Also known as a meander (meaning twisting and turning) or fret (design cut out with a saw), these patterns use one strong colour against a neutral background and have endless design possibilities in your knitting. We'll look at a simple pattern, then we'll explore the inbuilt options in how to use it to make several others.